LifeDancing
Mastering Life's Movement
"Life is the dance. You are the dancer."
Become the Master of Your Life's Movement
WHO IS THE BOOK FOR? Psychotherapists, coaches, and motivated individuals.
LifeDancing
is a lifelong program that grows the capacity to manage change and provide a guide for self-directed wellbeing. The result is women and men who can roll with whatever life hands them and know every day what they need to do to create their best life possible.
Why Did You Write The Book?
It had to be written.
LifeDancing
cuts through the plentitude of wellness and well-being information out there, much of which is helpful but overwhelming. It can be difficult discover what can help you.
LifeDancing
provides the tools and information to take any situation, explore it, prioritize action items, personalize it, and move confidently forward.
How Is It Different From Other Self-Help Books?
LifeDancing
is a way of healthy living that can be individualized for and by each person. This is not a one-size-fits-all program, but a recipe that can be personalized for each person's needs and desires.
Book Description
Change is often NOT easy to create or survive. Most people slog along from day-to-day until their proverbial boat gets leaks – or worse, sinks. Be prepared for life storms using the
LifeDancing
approach.
LifeDancing
is a step-by-step process that easily looks at the big picture of your life, problem solves, visions your dreams, plans, creates action and feedback, and guides and enhances your daily dance of life.
Using
LifeDancing
's Self-Directed Well-Being approach, you are invited to create your LifeDance now, and savor your applause!
For counselors, life coaches and psychotherapists
LifeDancing
is a tool you can use for yourself and with clients to teach self-management and self-directed well-being skills. The book and workbook are tools you can use in a crisis, as well as life- and future-building moments.
Discover the
LifeDancing
Master Class and the
LifeDancing
Journal. (
more
)
FAQ Sheet
What approaches or techniques do you recommend in your book?
Mindful Based Stress Reduction MBSR
Positive Psychology
Meditation
Self-Management
ReFraming
Visioning
And much more
Tips Sheets
The Dance of Love - How to Create a Loving Valentine's Day on Your Own
Why I Use Hummingbird Pictures
To S/He or Not to S/he?
Your Life is YOUR Curriculum
Available For Interviews
How you can use LD to change your life for individual populations
Themes
Living from the Inside Out
Becoming a Master Problem Solver
Taking control of your well-being
Learning How to Roll and Land on Your Feet - No Matter WHAT
Subscribe to the LifeDancing Newsletter here:
About The Author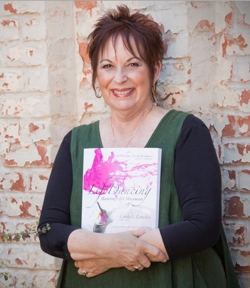 Linda L. Lawless, LMFT, LMHC, a professional in the mental health field for 30+ years, has a personal mission to mainstream mental health, remove the stigma of mental illness, and provide tools for wellness using self-directed wellbeing. Her book
LifeDancing
- Mastering Life's Movement, along with its companion Master Class and Journal, provides a set of tools and way of living that creates and supports optimal well-being. She practices in Benicia, Cailfornia, and works and plays aboard her yacht,
LifeDancing
in Vallejo, California. (
more
)
Click on the images below for Hi-Res Photos: